Fitbit trackers are reliable devices, but things are not always the same. There might come problems in your tracker which can only be solved by either turning off, restarting, or resetting the device.
However, the process of turning off, restarting, and resetting each device is different.
And also, it is important to understand that Fitbit won't let you shut down some trackers. But, in the case of Fitbit Blaze, Fitbit Surge, and Fitbit Force, there are no such restrictions.
In this article, I'll take you through each step to turn off, restart, and reset your tracker. But, before, let's know why you should reset or turn off or restart your device.
Why Should I Restart/Turn Off My Fitbit?
Fitbit trackers being an electronic device, not daily, but there can come times when you may experience problems with the devices.
If you face any of these issues mentioned below, restart your tracker:
If your tracker is not syncing.
If it doesn't respond to the button presses, taps, or swipes.
The device charged but doesn't turn on.
If it doesn't track your steps and doesn't give other metrics.
Why Should I Reset My Fitbit?
First of all, there are two kinds of reset- a quick reset and a factory reset. A quick reset will turn your device off and back on usually solving basic problems, without erasing any data. Whereas, factory reset will delete all your data.
You can quickly reset your tracker if you face issues such as:
The problem with syncing.
Inactive or sluggish performance.
Problems with screen display.
Bluetooth connection not working between the phone and Fitbit.
However, if you want to gift your tracker to someone else, or exchange it with a new version, then you want to perform a factory reset of your device.
Here, in this guide, I will be focusing on how to perform a quick reset on your Fitbit rather than a factory reset.
Fitbit Blaze: Turn Off, Restart, and Reset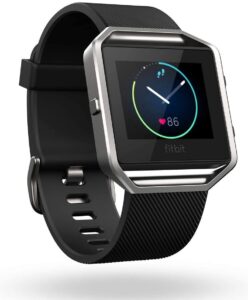 Display
1.66 inch (4.22 cm) LCD Display

Display Resolution: 180×240 pixels
Material Used
Stainless steel body

Silicone, leather band
Dimensions
Body dimensions: 8.64 x 1.67 x 0.43 inches

Body net weight: 40.8g
Water resistance
Yes,5ATM
Memory
–
Heart Rate Monitor
Yes
SpO2 Sensor
Yes
NFC
No
GPS
Yes
Sleep Tracker
Yes
Microphone
No
Battery
Up to 5 days of battery life (Lithium Metal Battery)
Connectivity
WiFi: No




BlueTooth 4.0

Supported Systems
Android and iOS
In the box
Fitbit Blaze x 1

USB Charging cable x 1

User manual x 1
Other Features
Multi-sport

Workout Goals

SmartTrack
Fitbit Blaze- a device with a comfortable design, readable display, and good-looking accessories that work with both iPhone and Android.
Steps to Turn Off Fitbit Blaze
Swipe right on the home screen of Fitbit Blaze, and tap on the Settings
Scroll down to Shutdown and tap on it.
Then, confirm the Shutdown.
Steps to Restart Fitbit Blaze
A first, press and hold the Back and Select buttons (left and bottom right), until you see the Fitbit logo on the screen. This has to take less than 10 seconds.
Then, let go of the buttons.
This must restart your Fitbit Blaze.
Steps to Reset Fitbit Blaze
Foremost, press the left-hand button and the right-hand lower button
Hold those buttons for 10-12 seconds.
Patiently wait until the Fitbit logo displays on the Blaze's screen. (The tracker will vibrate a little)
Finally, release the buttons.
The Fitbit Blaze is now restarted and must work properly.
Fitbit Surge: Turn Off, Restart, and Reset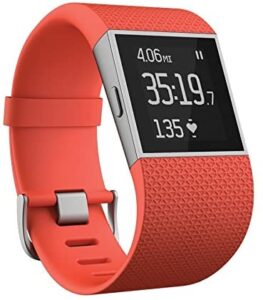 In addition to mapping your running, walking, cycling, Fitbit Surge also monitors your heart rate 24/7 via your wrist, through a built-in optical sensor. Due to this feature, Fitbit Surge is one of the most capable fitness trackers in the market.
Steps to Turn Off Fitbit Surge
First, press the home button (left button) and swipe to the settings screen.
Tap on the Settings and swipe until you see the Shutdown.
Now, tap the Arrow on the bottom right.
Finally, tap the Checkmark to confirm the shutdown.
Steps to Restart Fitbit Surge
First of all, press and hold the Home and Select buttons (left and bottom right) for about 10-15 seconds, until you see the screen flash or the screen start to dim.
Then, kindly let go of the buttons.
Lastly, after your screen turns off, wait for 10 seconds, and press the Home button to turn your Surge back on.
Steps to Reset Fitbit Surge
In the beginning, press the left (single) button, and the right lower button at the same time for about 10-15 seconds.
The graphics on the Surge's face will fade and the screen will go dark.
At last, press the power button (left button), and the tracker will power back on, then reset and it works just fine.
Fitbit Force: Turn Off, Restart, and Reset
Fitbit Force is an updated version of Fitbit Flex that adds a small OLED (Organic Light-Emitting Diode) readout.  The nicest feature of Fitbit Force is its screen which is bright and easy to read. Moreover, the wrist strap design is lightweight and comfortable to wear.
Steps to Turn Off Fitbit Force
Plug its power supply into the back of the tracker.
Then, hold the left button for 10-12 seconds.
The screen will go dark, and the tracker is now off and you can unplug.
Steps to Restart Fitbit Force
Connect the Fitbit Force to its power supply.
Hold the left button until the tracker vibrates and displays an icon on the screen.
That means it has restarted.
Steps to Reset Fitbit Force
Foremost, connect the Fitbit Force to its power cable.
Hold the left button of the device for more than 10 seconds.
When the Fitbit logo and some numeric data appear on the screen, the unit is reset.
Some Related Questions
Will I Lose My Data If I Reset My Fitbit?
As I mentioned prior, a quick reset will just turn your device off and back on. But, a factory reset will wipe all of the data from your Fitbit device, and turns it off and back on. The data include all the stored data which are not synced to your Fitbit account, also your alarms, your goals, and all the notifications.
You must set up your tracker again after you perform a factory reset.
However, if you want to reset your device, and at the same time you want to preserve all your data, then you can perform a quick reset.
What Do I Do If My Fitbit Won't Turn On?
Usually, a Fitbit won't turn on because of a drained battery, a problem with charging, or other software errors.
I will list out some major steps that you can follow to fix your Fitbit:
Clean the Fitbit. If the device is dirty, it won't charge.
Fully charge your Fitbit.
Make sure you have plugged the charger correctly.
Restart your Fitbit.
Perform a factory reset.
If none of these steps solved your issue, contact Fitbit customer support. There can be some hardware problems.
How Can I Fix The Black Screen Issue In My Fitbit Charge 3?
The black screen issue in Fitbit Charge 3 resolves for some after the device is put in charge. Also, as per the Fitbit forum moderator, you can resolve the black screen issue by rebooting the device.
Additionally, according to the moderator, if your Fitbit Charge 3 is vibrating, and only the screen has gone black, then restarting the device 3 times can solve the issue.
Also, changing the clock face of the Fitbit has solved this problem for some people.
Nevertheless, even after trying the above ways, the problem is not solved, then please contact the Fitbit customer support, and wait for the update.